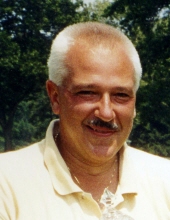 Thomas K. Gabbie
August 26, 1955 ~ April 22, 2020
Thomas K. "Gabs" Gabbie, a former Club Champion of Pleasant Valley Country Club and Williams Country Club, died Wednesday, April 22, 2020, at his home in Weirton, WV, after a year and a half battle with Acute Myeloid leukemia. He was 64 years old.
Tom was the firstborn child of five to the late Kenneth and Helen Donovich Gabbie.
Gabs, as he was known to many of his friends and family, was born on August 26, 1955. He attended Saint Joseph the Worker Grade School and graduated from Weirton Madonna High School in 1973. After high school, Gabs, like many Weirton teens, went to work in Weirton Steel. After working in the mill, he decided to continue his education at West Virginia University, where he studied abroad for one semester in Italy. He graduated in 1983 from WVU and pursued a career in sales. Most of his career was with Keebler and eventually with Kellogg Company after the 2001 buyout. Tom finished his 37 years in sales as the North America Sales Manager with Huafon Nikkei Aluminum Corporation.
Tom's athletic talents started at a young age. In 1971 he set a termite record by belting three home runs that included a grand slam for a total of 10RBI's in a single game. Working as a golf caddie at Williams Country Club, Gabs discovered his passion for the game of golf. Known throughout the Ohio Valley for his skills, Tom recorded six holes in one and was the only golfer in the history of Weirton to be crowned Club Champion four times, 1993 and 2010 with Pleasant Valley Country Club and 2002 and 2006 with Williams Country Club. In both winning and losing efforts, Gabs always respected his competitors, and he found his greatest joy playing against his friends, including John, Nick, Freddie, Gary, Jim, and John. He also enjoyed going on golf trips for forty years to Myrtle Beach and Florida
For relaxation, Gabs enjoyed visiting museums, attending symphonies, or quietly just sitting on the couch for hours reading History books or watching the Golf Channel and Food Network. He loved to cook!
Gabs was laid back, even keel, always going with the flow and usually quiet until his second drink.
Tom will be remembered with love by his three sisters; Lisa A. Gabbie, Tina (Keith) Engleka and Trish (Ramar) Russell; his brother, Daniel Gabbie; his loving girlfriend, Pam Zgurski, who was there by his side thru all of his illness; niece and nephews, Townsend Russell, and Andrew and Adam Engleka and many friends he made along the way.
A celebration of Tom's life will be held at a later time when the COVID 19 restrictions on public gatherings are lifted.
Please share a story with Tom's family at www.grecohertnick.com
Memorial contributions may be made in Tom's memory to Leukemia & Lymphoma Society at www.lls.org
Memories Timeline
Guestbook
---